Semi-finished products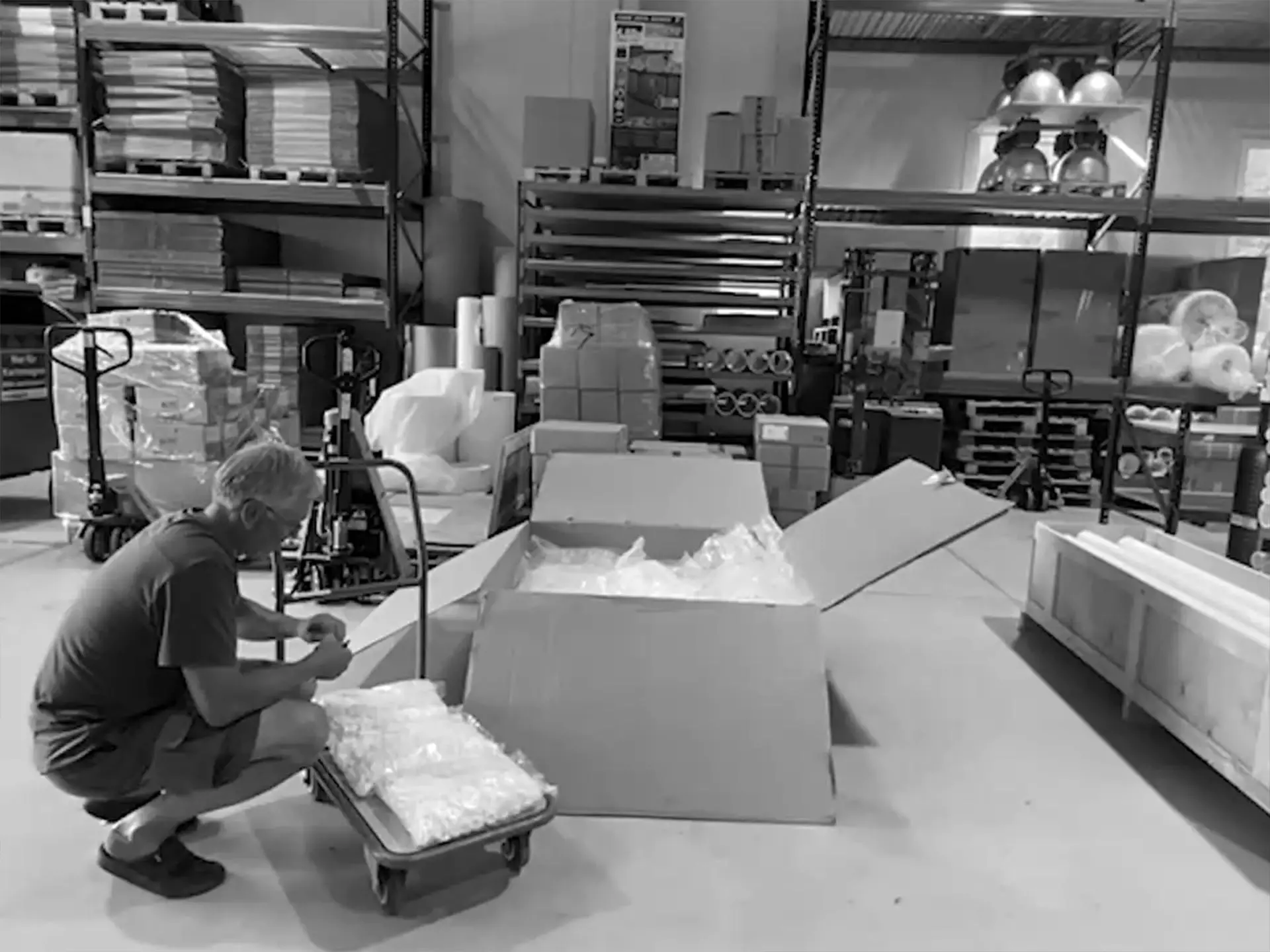 All-round geniuses: PTFE semi-finished products
Sheets, rods, panels, tapes, pipes and tubes made from high-performance plastic
PTFE semi-finished products are a very important aspect of our range. We prepare them in such a way that you, our customers and parters want - so you are then able to further process them as you see fit. That is, we produce, manufacture and cut the requested sheets, pipes, tubes, panels, tapes and rods to the required dimensions, colours and designs.
As with all the items that leave our factory floor, semi-finished products too are rigorously inspected. They are subject to quality guidelines set out in European and American standards. As an ISO 9001 certified company it is of the utmost importance to us to guarantee and deliver the highest quality. Over the past three decades we have been able to acquire a great deal of knowledge and have built a professional, first-class network. We see ourselves as a reliable partner, meeting the highest standards.
PTFE semi-finished products for the highest requirements
PTFE rods & tubes
Extruded and pressed rods & tubes
Requirements and intended applications are naturally very different. For that reason we offer extruded and pressed rods, tubes and rings. If for instance, very high stability is required, we recommend the pressed variants. We are happy to provide bespoke advice on this theme to find the best solution, after all, there are so many versions in the wording alone: round rod or hollow bar, full section pipe, pot etc.
Extruded PTFE rods
3 to 120 mm in ∅ | 1000 to 2000 mm length
130 to 200 mm in ∅ | 1000 mm length
Smooth surface versions on request
Pressed PTFE rods
30 to 330 mm in ∅ | up to 300 mm in length
340 to 530 mm in ∅ | up to 100 mm in length
Special dimensions available on request
Extruded PTFE tube
10 to 165 mm in ∅ | uo to 2000 mm in length
Pressed PTFE tubes and rings
40 to 350 mm in ∅ | up to 300 mm in length
360 to 1300 mm in ∅ | up to 100 mm in length
Over 2000 mm available on request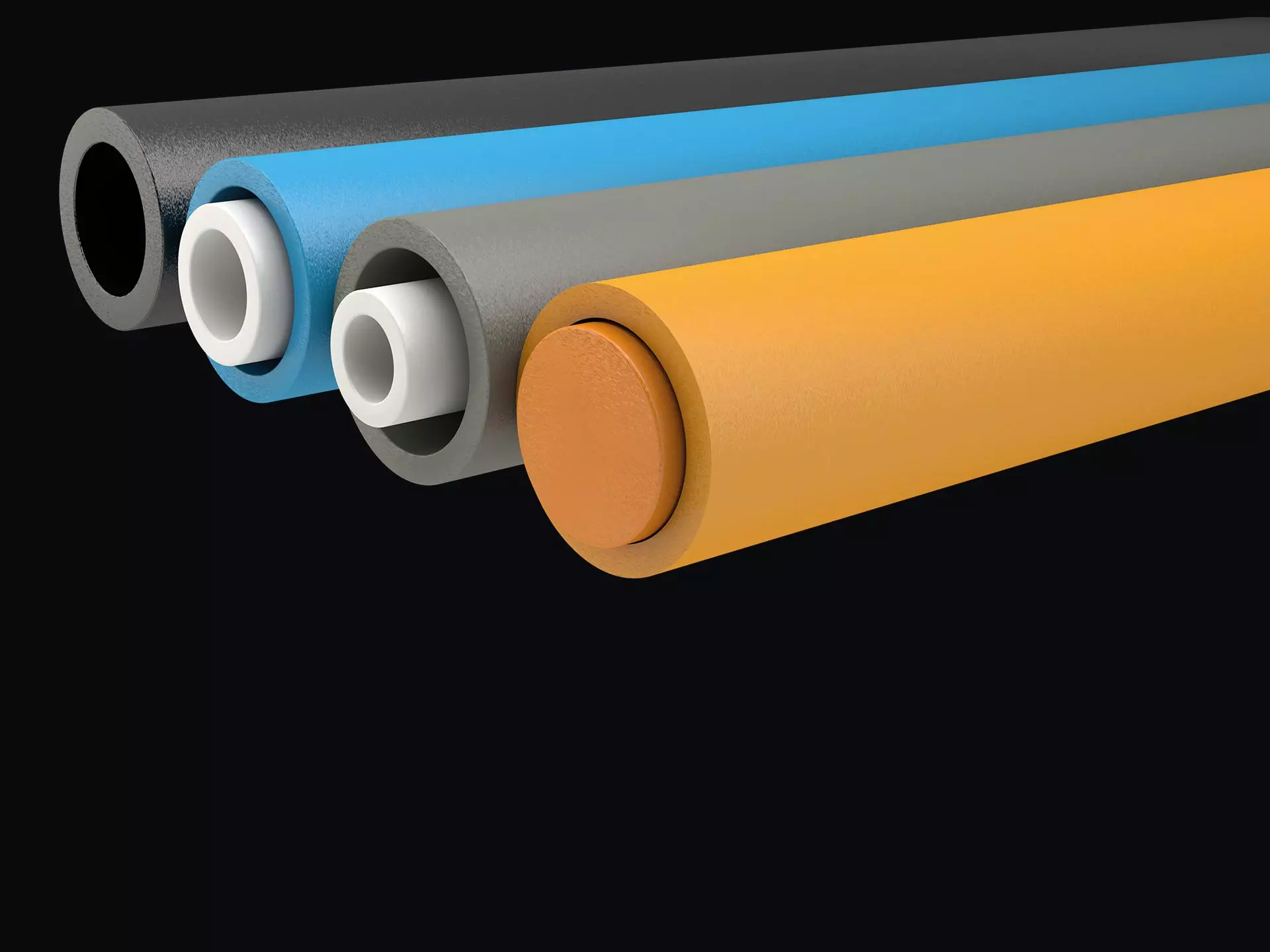 PTFE Panels
Panels made from sheeting
Using a special pressing and sintering procedure, classic PTFE panels are produced in standard sizes, as well as bespoke sizes, and also to suit customer requirements, for instance in a specific colour. Our product range extends from small amounts to bulk deliveries.
Press plates
Plate thickness from 4 to 100 mm in the following formats: 600 x 600 mm, 1000 x 1000 mm, 1200 x 1200 mm, 1500 x 1500 mm
Other thicknesses / dimensions available on request
Plates made using sheeting
Plate thickness from 0.5 to 6 mm in the following formats: 600 x 600 mm, 1000 x 1000 mm, 1200 x 1200 mm, 1500 x 1500 mm, 2000 x 1000 mm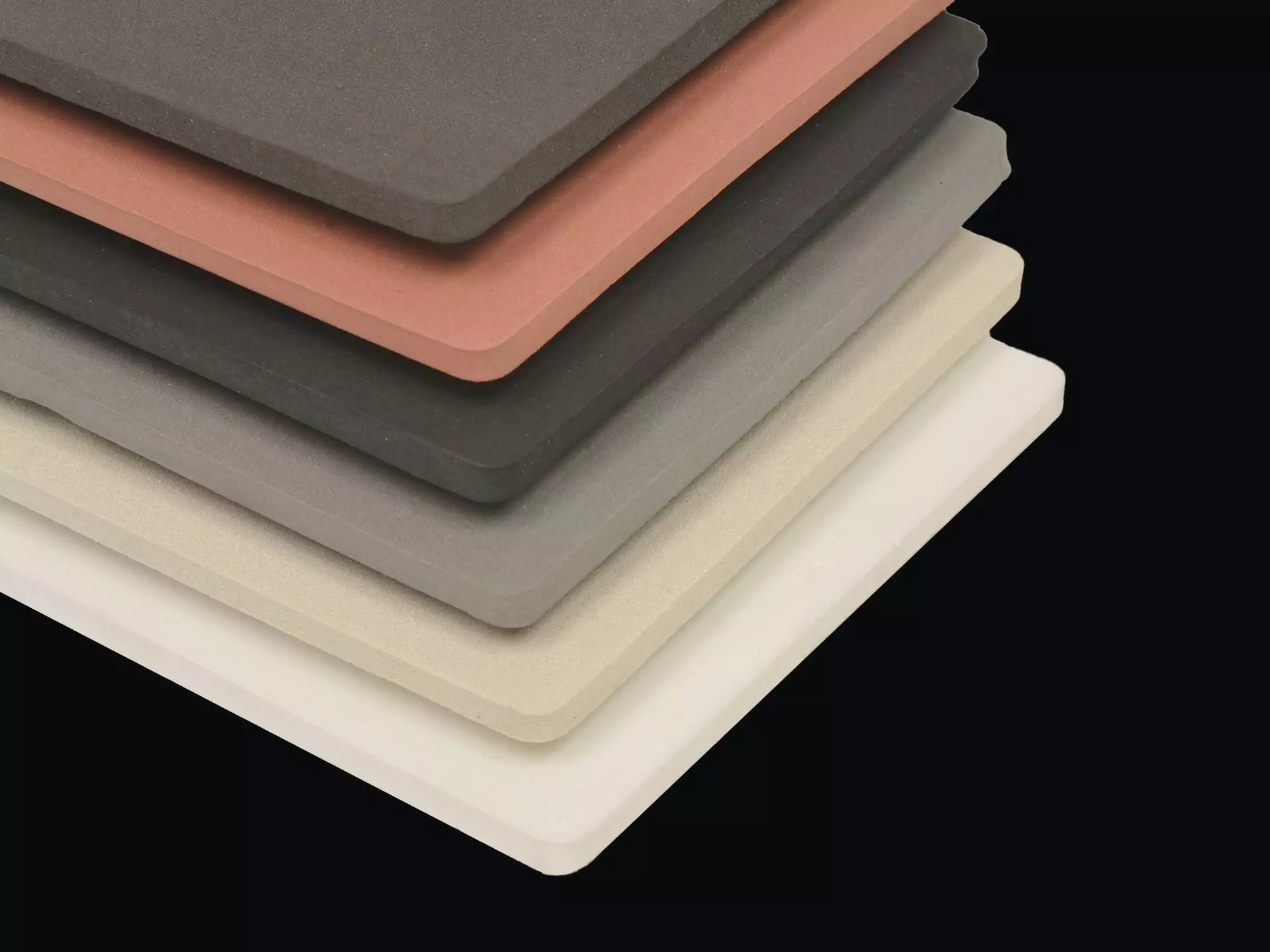 PTFE sheeting
Plastic sheeting from 0.025 to 6 mm
PTFE sheeting is used in the packing and food sectors due to its antibacterial properties, for instance in conveyor belts and reusable baking parchment. In chip production, PTFE sheeting is indispensable. They are physiologically safe and are a real winner thanks to their media and temperature resistance.
Sheeting in thicknesses from 0.025 to 6 mm and in max. 1500 mm width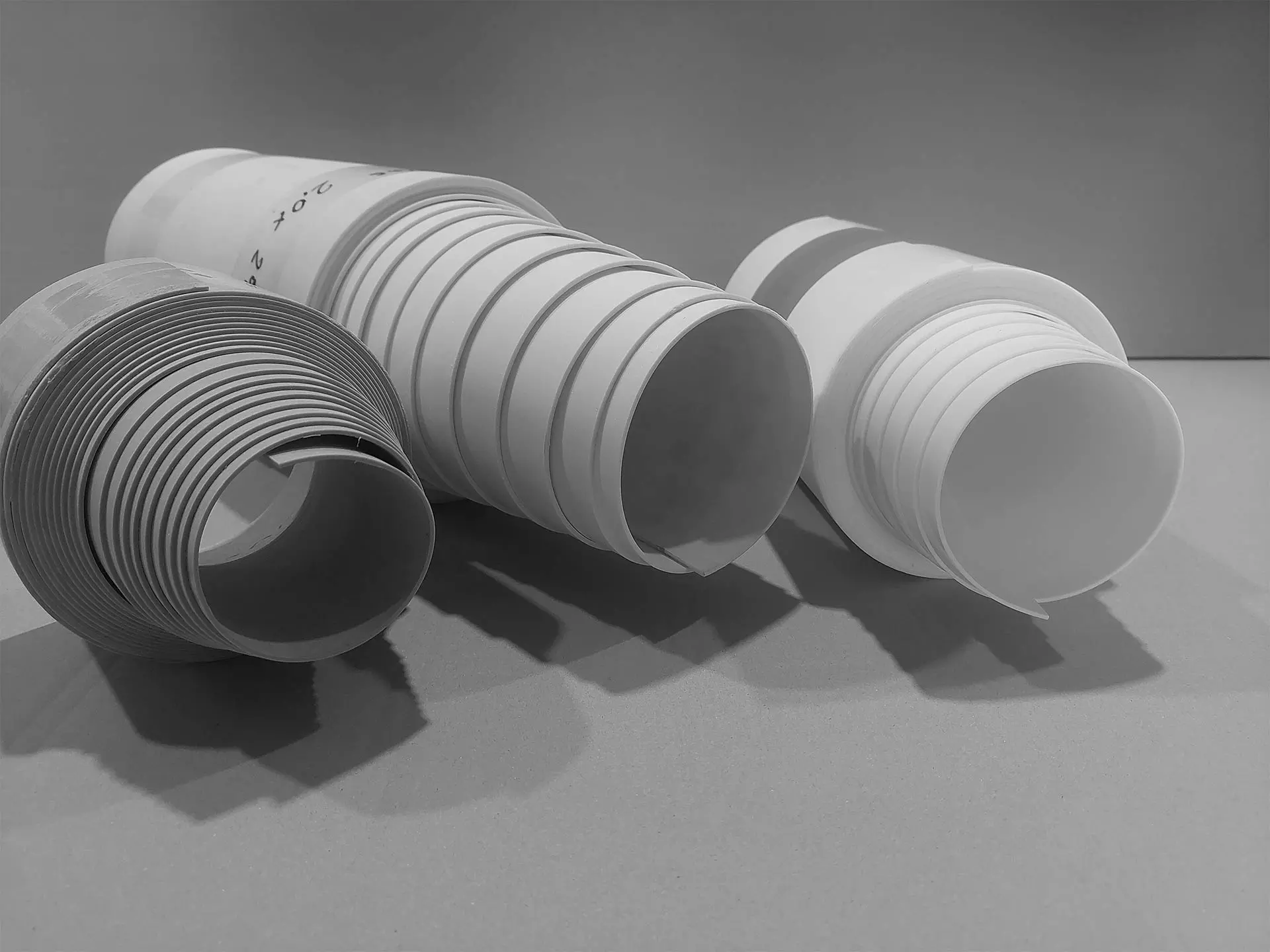 Produced as per your requirements
PTFE semi-finished products as bespoke as your requirements
You can of course purchase 'off-the-shelf' items from us – as much as you require]. We are happy to listen to our customers and partners and contribute our expert knowledge. Providing bespoke solutions is our business, so we are happy to manufacture custom sizes, in different colours, in various materials, in bulk and small amounts too.
Wholly in keeping with our philosophy, we are happy to provide you with advice. With our valuable expertise, spanning more than 30 years, we not only have our expansive knowledge-base to refer to, but also a faithful and professional network.
Send an enquiry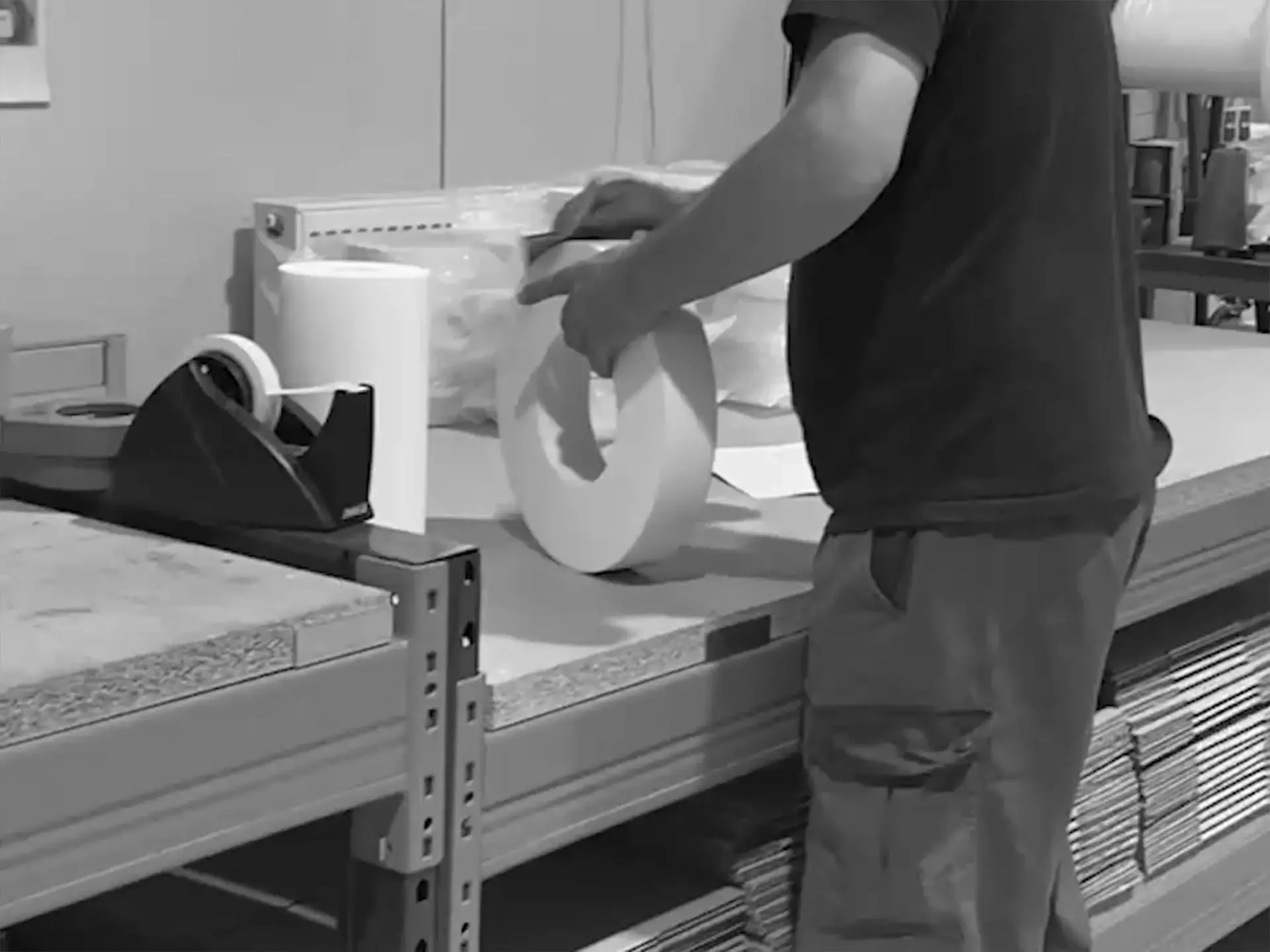 Extruding vs. Pressing
Production of PTFE tubes and rods
Before we effect your order, we have to decide the production process to use for your preferred PTFE semi-finished products (tubes, rods, rings). After all, it is this that forms the basis of the requisite quality in a specified quantity and the application of the preferred item. This in turn means you ought to consider the area of use, quantities, conditions and effects they will be exposed to, timing, duration of use, weather conditions, possible pressure etc.
For instance, we supply pressed rods and tubes, when dimensional stability is absolutely necessary even under the most adverse conditions. By way of comparison, extruding is much more cost-effective, so our customers are happy to select this method if they require simpler variants.
In any event we recommend discussing this with our experts, so you can find the best solution for your specific situation.
Send an enquiry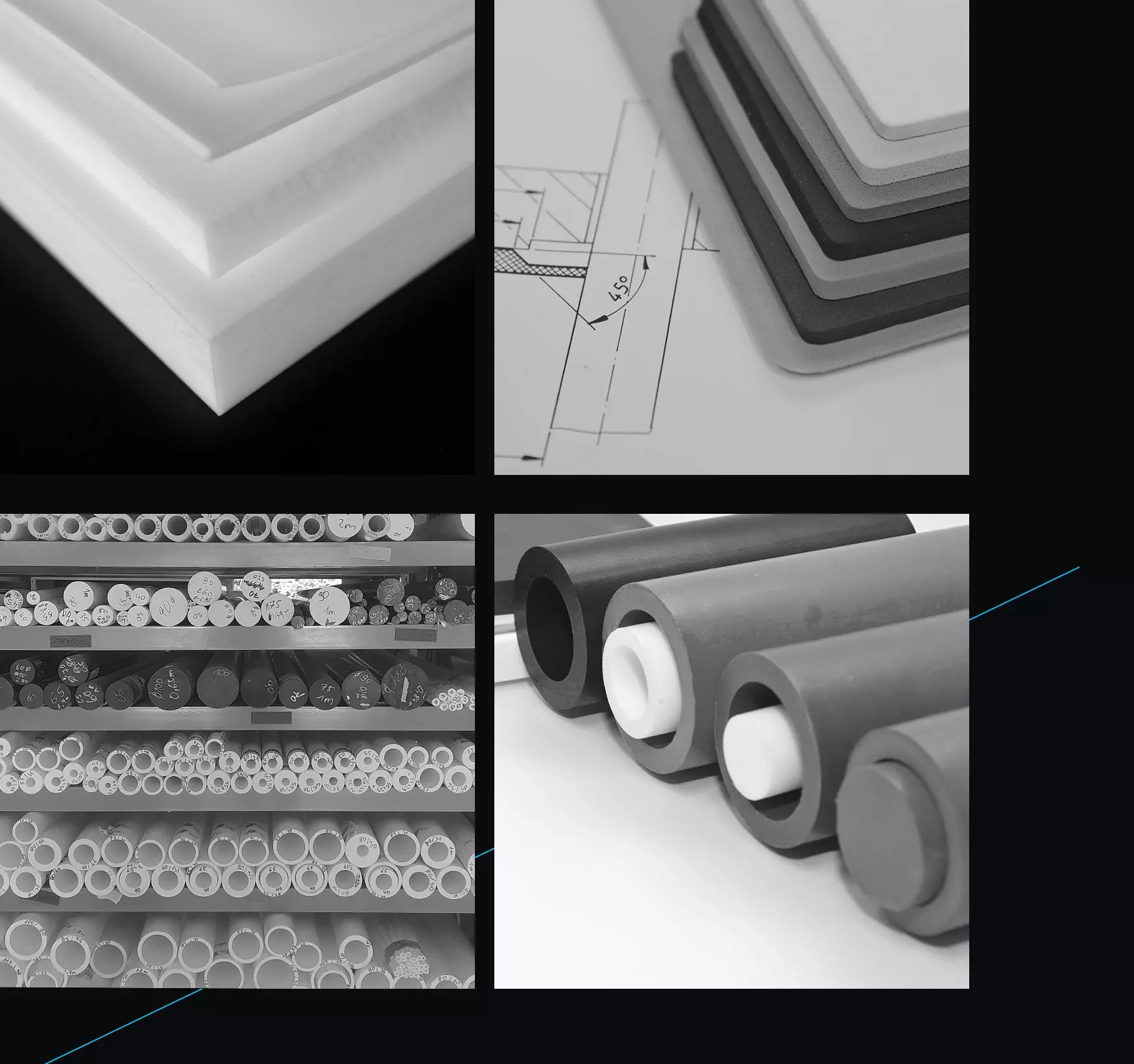 Standard materials
PTFE-pure (virginal)
PTFE-MOD.(alternative TFM® 1600/1700)
PTFE+25% GLASS
PTFE+25% GLASS MOD. (alternative TFM® 4105)
PTFE+GLASS+MOS²
PTFE+25% CARBON/GRAPHITE
PTFE+15% GRAPHITE
PTFE+40% and 60% BRONZE
Special materials
PTFE+PEEK
PTFE-turquoise
PTFE-1,2% and 2% CSC-conductive filler/FDA
PTFE+CARBON FIBRE
PTFE+10% and 15% GLASS
PTFE+15% CERAMIC
PTFE+50% INOX
PTFE+WOLLASTONITE
PTFE+POLYIMIDE
ePTFE
On request we are happy to produce finished components using the material ePTFE (expanded and multidirectional PTFE). This is a specific type of the high-performance plastic PTFE. It demonstrates even higher resistance, tensile strength and adaptability.
Benefits of PTFE finished components
Ready for use between -200°C and +260°C
Outstanding gliding properties
Total weather resistance
Non-combustible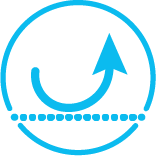 Exceptional anti-adhesion properties
Universal chemical resistance
Your contact partners
Correspond with experts
Our foremost aim is to supply our customers with the best product, in the highest quality. To do that, we communicate on an equal footing with everyone involved. You, our customer or our partner, will for the most part have one contact person from our company who will be entrusted with your project. With regard to semi-finished components made using PTFE in particular, Barbara Stocker, Maria Grander, Cornelia Seiwald and Werner Krepper are happy to help. They will discuss your ideas, suggestions and plans – right the way through to delivery.
Tell us about your project. We look forward to receiving your message.